2023 Nucs, Packages, Full Hives, Queens
We are excited for 2023 and can't wait to supply you with your bees. This year we will have Purebred Russian Nucs, HoneyStrong Genetically Diverse Nucs, HoneyStrong Packages, and Full Hives (Singles (deeps/mediums), Doubles (deeps/mediums), and 1.5s . In the past few years we have increased the number of full hives we have sold and have heard great feedback from those who have bought the larger colonies. We encourage all beekeepers to look into getting a full hive that's ready to go to work!
We do not do any equipment trade offs. The nuc transport box can be used to do a split later on or for a swarm trap. We will gladly take your package/nuc box off your hand and we will repurpose them. The pickup location is: 1753 Ebenezer Rd Smyrna, SC 29743 (We do not ship, pick up only). You must be there the day you order your bees. Not showing up on the day you order will forfeit your order.
ALL Package and Nuc

PICKUPS

ARE ALL ON TIME AND ARE AVAILABLE FOR PICKUP BETWEEN 8AM-11AM. Refer to the date on your receipt.

FULL HIVE pickups are only Friday evenings. Please bring your suits for full hive pickups so that you can go through the hive before you leave. Be sure to come early enough to allow adequate time to go through the hive(s) before dusk.

BULK ORDERS:

Anything over 4 hives, or total packages + nucs over 10, please call/text/email us (704-993-6833 | info@HoneyStrong.com) for pricing and method to place deposit down:
2023 prices are as follows:

Packages $130 (option to upgrade to marked queen the day of for $5 extra)

5 Frame Nucs in wooden boxes with marked queen

Purebred Russian Deep Nucs $220
1 Deep and 1 Medium (One-N-Half's) $360
Queens
$50 Prepaid Purebred Russian Marked Queens




HoneyStrong Genetically Diverse Marked and Mated Queens
2023 Full Hives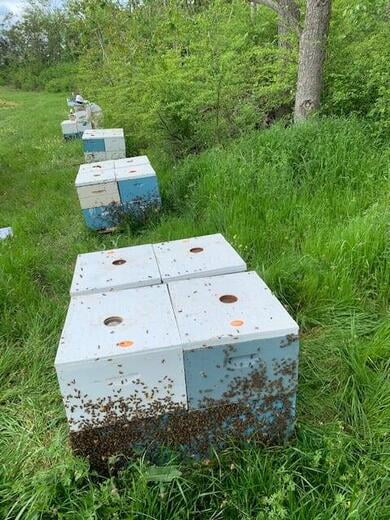 HoneyStrong is excited to announce that you now can Build Your Own Hive (BYOH). You can now personalize the way you want your hive to be set up. After much research, experience, feedback, and careful planning, we have selected the top eight ways customize your hive.
Full Hive pickup are on Friday evenings. As soon as we sell out of any date, we will remove that option from the menu. At sunset, we load up the bees to ensure you have as many bees as possible! We go through the hive(s) together and do a full inspection (please bring your suit and any questions you have). This is a great opportunity to learn with the experts.
***Please come with enough time before sunset to inspect your hive.****
Current available full hive dates: 08/25/2023
Closed full hive dates: 4/28/2023, 05/05/2023, 05/12/2023, 05/19/2023, 05/26/2023
33000000
2023 HoneyStrong Nucs
Our HoneyStrong Nucs are created using our local genetic stock. The genetic makeup of this stock is a combination of Italian and Carniolan. Italian bees are widely known for their strong honey production and the Carniolan bees are mainly known for their gentle nature.
HoneyStrong Nucs are $185. A HoneyStrong nuc will include the following: a wooden transport box, 5 deep frames of drawn comb (3-5 frames of brood/eggs, and 2-3 frames of honey/pollen), a marked and mated queen, and enough bees to begin a colony of your own. The wooden transport box works great as a swarm trap, but can also be used for splits or queen raising within your own apiary. The nuc will be sealed up for transportation to your apiary but has a ventilation hole to prevent the bees from overheating.
Current available HS nuc dates: 08/26/2023
Closed HS nuc dates: 4/22/2023, 4/29/2023, 05/06/2023, 05/13/2023, 05/20/2023, 05/27/2023
2023 Packages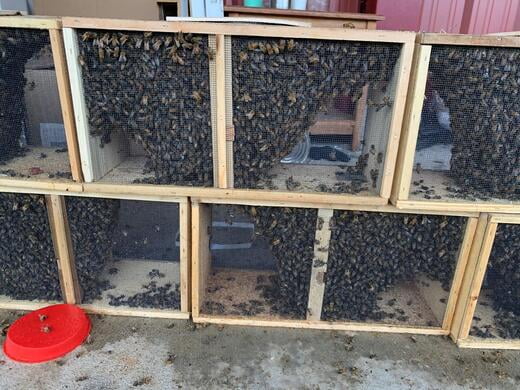 Our HoneyStrong Packages are created using our local genetic stock. The genetic makeup of this stock is a combination of Italian and Carniolan. Italian bees are widely known for their strong honey production and the Carniolan bees are mainly known for their gentle nature. Packages are $130 per package for quantities less than 10 and include the following: a screen box, sugar water in a container, nurse bees, drone bees, foragers and guard bees. The 2023 mated queen will be in a separate cage with feeder bees inside the package.
Current available package dates: SOLD OUT
Sold Out Dates: 03/25/2023, 04/01/2023, 04/08/2023, 04/15/2023, 04/22/2023
2023 Russian Nucs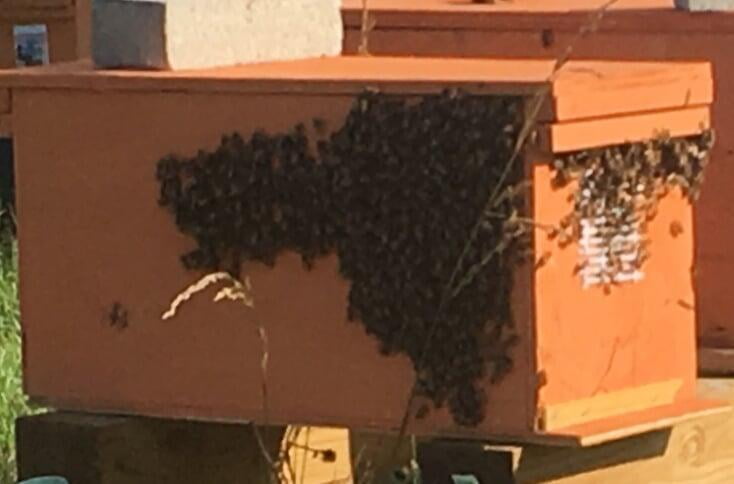 Russians nucs are established by introducing a certified purebred Russian queen into a nuc built with HoneyStrong bees. We monitor and make sure the queen is healthy and is accepted by the colony. We buy these certified queen from a Russian breeder in the south that is part of the Russian Honey Bee Breeders association. 3 frames of bees, all 5 frames drawn comb, all frames will be deep frames.
2023 Queens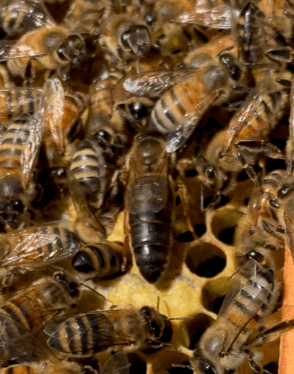 We prefer if you prebook your queens, but understand if you need a queen asap- in which case, please text us. We have HoneyStrong Genetically Diverse Queens. All of our queens (except Purebred Russians) come from our own yards. We take pride in our ability to raise so many and pride in their genetics. They are mostly Italian X Carniolan. The queen(s) lay at least 2+ weeks before we pull them and are 2023 queens. Purebred Russians are come from a couple members of the Russian Bee Breeders Association. Use the form below to reserve your queen. Text us if you need a HS queen!
Available Dates: 04/22/2023, 04/29/2023, 05/06/2023, 05/13/2023, 05/20/2023, 05/27/2023, 06/03/2023, 06/10/2023
Sold Out Dates for HS Queens: 04/01/2023, 04/08/2023, 04/15/2023
Terms and Condition: When picking up your bees, you should bring protective gear in case any bees were to 'leak' out of the package/nuc/hive(s). Bees travel best in/on an open truck bed. Once you leave the property, we are no longer responsible. A lightweight sheet is great to cover the bees with if placing inside your vehicle. Honey Strong LLC does not guarantee that you will be able to successfully establish a colony or "hive" the package, nuc and/or hive. You agree that you will not attempt to hold us responsible for whatever may happen to your package, nuc, and/or hive after it is picked up or for the survival or productivity of the hive that you may establish from the package, nuc, and/or hive. We do not guarantee that a queen or queens will be successfully introduced to or will be accepted by your hive. You agree that you will not hold Honey Strong LLC responsible for queen survival in your hive, or for the condition or productivity of your hive after introduction. NO CANCELLATIONS OR REFUNDS. Pick-up date is subject to weather conditions. In order to receive the best result, move the bees over to the permanent hive within hours of arriving at your destination. All liability is waived once you leave our property with your bees. By agreeing to these terms you are also agreeing to subscribing to our newsletter.