RESIDENTIAL & CORPORATEBEEKEEPING SERVICES
Our standard package includes all required hive equipment delivered to your home. We supply and install the bee colony and provide them with any support they may require in order to succeed and thrive. Our bees are inspected multiple times throughout the year and we guarantee a live, healthy bee colony. This covers both the replacement of your queen, along with the replacement of your entire colony.
Hive equipment for this standard package is produced in high quality pine. Hive boxes are sent into the field with solid white exterior paint, it includes a flat roof with a galvanized aluminum casing. HoneyStrong does not use any chemicals in any of our equipment. A complete hive set contains all required hive items: one bottom board, two 8-frame deep boxes, 16 deep frames, one inner cover, and one outer cover. We will be adding and taking away top boxes (or also known as Supers). We also provide weighted support on the top of the hive, and cinderblocks to raise the hive off the ground.
Custom paint options are also available. Each hive is hand-painted by our in-house artist.
We visit on a routine basis. This usually averages out to be every 3-5 weeks but may vary slightly depending on hive condition, time of year, and other factors. You will be notified ahead of time with the day and about the time we will be coming over. We always bring extra suits with us in the case you would like to "dive in the hives" with us. We are on a schedule, so our time is limited, but if needed, we can scheduled an extended session to go in more dept.
We take preventative action to prevent swarms, diseases, starvation. We expand equipment by adding or removing boxes in order to accommodate the seasonal variance in colony size. Routine updates will be sent to you after each visit, regarding the status of the hive, the strength of the colony, and any disease or issue that we may have found.
We harvest, bottle, and label your honey for you. We ensure that your honey remains separate. In the case of a low nectar flow or lack of forage, we always ensure you have a limited about of honey.
We do all of the above items with addition to the following:
We inspect on a more regular basis. We hold two classes every year for any employees who would be interested in learning about bees, one in doors and the other class is held out in the hives (limited seats available for this). We will have our in house artist work with you on your design for the bottom two "brood" boxes. We can work with you for placing your logo on your hive as well.
POLLINATION
SERVICES
Depending on the variety of flower, growers require from one to six colonies per acre. By using our bees to pollinate their fields, growers can usually expect up to 50% more fruit. We want to assure growers of a reliable source of bees at a reasonable cost. We maximize the pollination process of your crops by providing healthy, strong, and active hives at the beginning of the bloom. Hives are placed throughout your orchards/fields in a pattern that assures the maximum distribution of pollinating bees. We provide two story "double deep" quality beehives. We pre-inspect the hives in our holding yards to help insure strength and quality. We provide a computer-generated topographic map to the grower showing placements of hives before moving bees into the fields. We inspect the hives in the orchard as necessary and we always have access to extra hives for emergencies.

We provide pollination services both for farmers who are experienced with using honeybees and for farmers who may never have used honeybees in the past. We would love to talk with you and explain how crop pollination will both increase your yields and produce a better quality crop. We are available to meet with you throughout the year to discuss placement of hives and answer any questions you may have pertaining to the use of bees for pollination.

Common Pollination needs in SC are for: apples, watermelons, squash, blue berries, cotton, and strawberries
YouPick: $10/Gallon
Price Break $80/10 Gallons
WePick: $13/Gallon (Call Ahead)
Appointments available throughout the week.
Varieties Available:
White Muscadines: Lake Fry, Pam
Black Muscadines: Black Beauty. Ison, Supreme

Bee Friendly Plant Nursery
We are excited to complete the full circle of being a bee supplier and not only supply the bees, the bee equipment, but also supply bee friendly plants! Please see the list below of what we have. Limited Quantities apply. Once we run out, we are out for that year. Thanks for considering us for your bee plant nursery and if you have any recommendation please send us a text/email. Thanks!
PRIVATE TOURS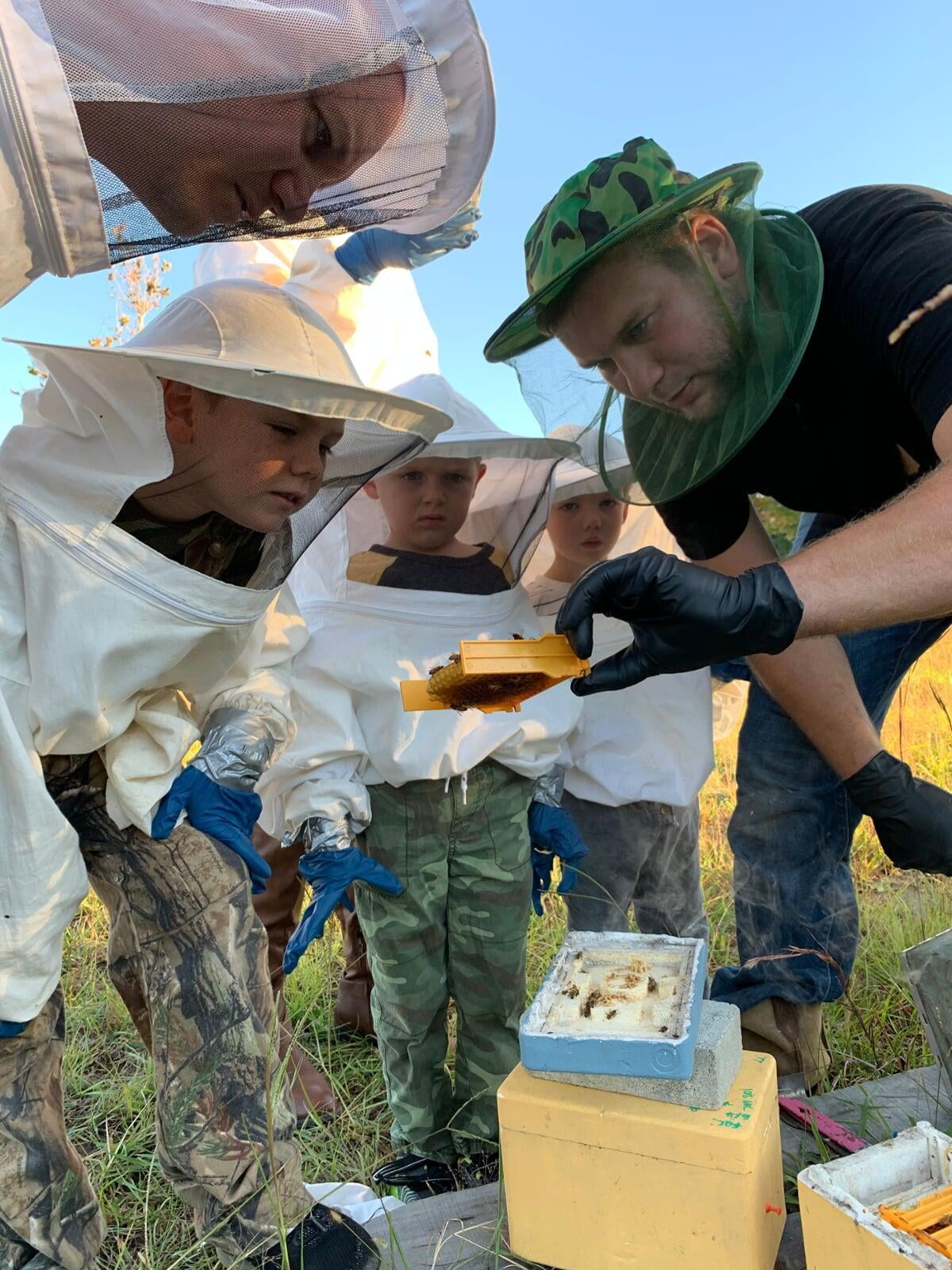 Have you ever dreamed of touring a honeybee apiary and getting to see the bees up close and personal? Now is your chance.
Family friendly event - ALL ages are welcome
Duration: 2 Hours
Cost: 4 person minimum. $50 per person
Includes:
Bee suits, veil, gloves that you get to borrow. We keep anywhere from 100-200 hives on this property, and we will go through the hives and answer any questions that you have whether they are on a basic or an expert level. You will get to hold a frame of bees and use a spoon to eat a fresh piece of honeycomb off of the frame.
We have a variety of activities on the HoneyStrong property and you can choose to allocate your time however you would like. We have goats that can be played with and if there are any new babies, the moms can be milked. We also have a couple acres of muscadines that can be used as a photo op or and to learn about this incredible vine.