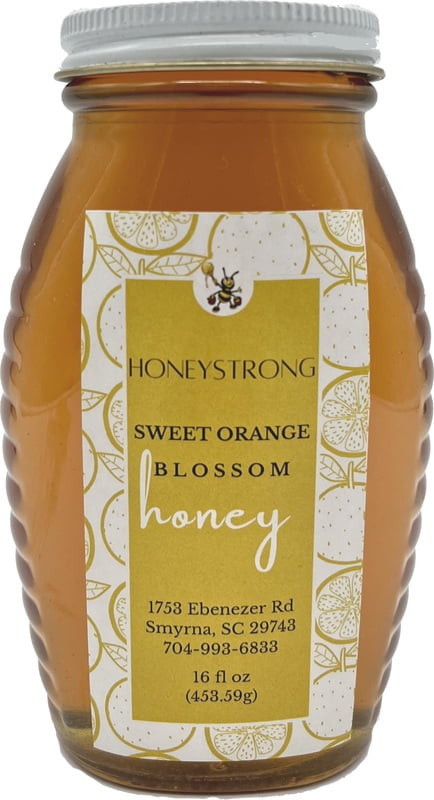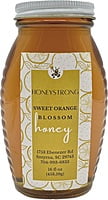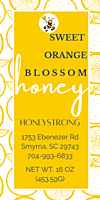 Orange Blossom Honey
FLORIDA SUNSHINE IN A BOTTLE
Please specify if you have a preference for glass or plastic bottles. If you do not specify, we will choose for you.

Orange blossom honey comes from the fragrant blossoms of the sweet orange tree. Buds begin forming in late January, and the trees come into full bloom in March. As it takes many months for the fruit to ripen, you can often see new blooms and ripe fruit on the tree at the same time. Orange Blossom Honey is our earliest harvest of the season and a sure sign that spring is on the way. It's like sunshine in a jar! Raw Orange Blossom honey is delicate, nearly white in color and the blossom has a fragrance when standing in an orange grove at bloom It retains all of the flavor and aroma you would expect from this magnificent single source honey.
Please specify if you have a preference for glass or plastic bottles. If you do not specify, we will choose for you.

COLOR
Orange blossom honey is like Florida sunshine in a jar displaying a beautiful light thick amber color.
FLAVOR
The taste is very sweet, mild, honey with a just a hint of citrus at the end. Orange Blossom Honey is floral, fruity, and incredibly aromatic. It can add dimension to many foods, drinks, and sauces, and is particularly good for baking. In addition to its delicate taste it boasts a thick and rich consistency.
SMELL
Orange blossom honey does indeed smell like oranges and citrus, a very delicate and unique aroma. If you wait a while before eating the honey, its aroma will add complexity to the taste of honey. Orange blossom is a fruity and sweet honey, but only has light citrus overtones rather than a strong orange flavor.
FOOD PAIRINGS
With its bold sweetness, this honey stands up well in baking. Use it to make a quickbread, such orange-honey walnut bread, or cranberry orange muffins. Ideal for roasted carrots or drizzle over buttery French toast. Try as a dip for fresh figs, strawberries, and melon. All natural raw orange blossom honey also goes great with tea and many other foods like vanilla ice cream and pastries.
CARE
Over time, the honey's color will darken slightly if the jar remains sealed. Don't be surprised if your orange blossom honey crystallizes extremely quickly, because it has very high glucose content. A gentle warm water bath will restore the honey to its liquid state.
UNIQUE FACTS
An unusual ingredient in this honey is caffeine, which is not found in any other varietal. However, it's an extremely small amount of caffeine, even less than you'll find in decaf coffee, so it won't give you a wake-me-up jolt if you eat it with breakfast.
The primary medical benefits of all honeys are that they're high in antioxidants, anti-bacterials and anti-inflammatories, largely due to their slow release of hydrogen peroxide into the body. Orange blossom honey is no exception; in fact, it's better than most varieties in that regard.
The many antioxidants contained in this honey include hesperitin, quercetin, luteolin and galangin; they work to support the immune system and fight the effects of free radicals that, over time, damage the body's important organs and cause chronic illnesses. As for anti-bacterial power, studies have shown that orange blossom honey is effective against some of the most serious bacterial pathogens, like E. Coli and a number of staph bacteria.
Orange blossom honey is one of the best varieties for those who suffer from allergies, because of its relatively low pollen content. Because of the thickness of the honey, it helps with digestion, eases sore throats, and is one of the honey varietals which can aid with wound healing when applied topically. No honey is an ideal food when it comes to nutrition, because of honey's high carbohydrate and calorie content, but orange blossom does contain a number of important minerals including zinc, potassium, magnesium and calcium.